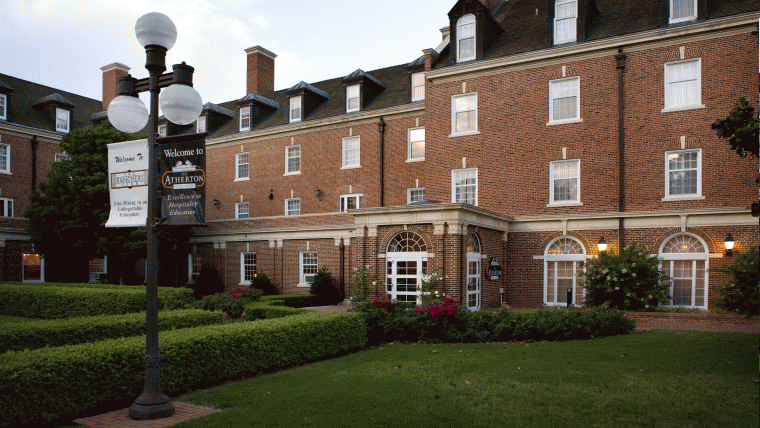 Atherton In The News
Explore our news page to learn more about the exciting events happening in and around The Atherton Hotel.
OSU Football Season Is Quickly Approaching

Though September is the last official month of summer, there's one thing we can all look forward to at Oklahoma State University here in Stillwater: the start of a new year for football. The season kicks off this year on September 4th with a game against Missouri State at Boone Pickens Stadium.

So don your best orange and break out those foam fingers in support of the OSU Cowboys! You've never seen a home crowd as enthusiastic as this one. If you don't happen to have tickets for Oklahoma State vs. Missouri State, come down and join us at The State Room, where we'll be broadcasting the game live on the big screen and serving up refined twists on bar food, classic cocktails, and cold beer in the atmosphere of unpretentious elegance you've come to expect at the Atherton Hotel.

This Father's Day, Pay Homage to Your Alma Mater

Alumni love staying at our historic Georgian property, as we're located in the heart of OSU, steps away from countless memories, hallowed halls, and a lively college experience. For dads staying with us this June, create your own Father's Day reward with a trip to OSU, where you can revisit your old stomping grounds, reconnect with your biggest mentors, and get familiar with the latest changes to the university's charming grounds.

After a full day on campus, enjoy a meal fit for a cowboy at The Ranchers Club. The premium cuts, rich decor, and hardy ambiance will have you feeling ready for a nightcap at our on-site restaurant and cocktail bar, The State Room. Looking to stay in? The Ranchers Club offers carry-out options so you can dine from the comfort of your luxurious guestroom.

Stillwater Pays Tribute to an Ancient Sport at the National Wrestling Hall of Fame and Museum

When you think of Stillwater, what's the first sport that comes to mind? If you said football, then you have a pretty good idea of what gets us excited here at OSU. But did you also know that our town is the proud home of the National Wrestling Hall of Fame and Museum? Founded back in 1972, the Hall of Fame and Museum has undergone major renovations in recent years, elevating this once quaint venue honoring the ancient sport to the status of a world-class shrine. During your visit, you'll encounter slick electronic and hands-on exhibits, video footage of the most exciting moments from every NCAA Championship across eight decades, and a treasure trove of wrestling artifacts from Stillwater to Singapore and back. Guests who'd like to do a little more in-depth research will also enjoy the extensive holdings of the William S. Hein Library, which specializes in rare books and other documents illuminating the fascinating history of the sport.

Address: 405 W. Hall of Fame Ave., Stillwater, OK 74075

Cool Off With An Iron Monk Brew

As the weather warms this spring, make your way to one of the Atherton at OSU restaurants to cool off with a local beer! Crafted by our friends at Iron Monk Brewing Company, each of their premium creations, from malt-forward ales and IPAs to dark stouts and sour wheats, satisfy every preference and palate across 14 varieties—many of which we have on rotation.

When at The State Room, located right inside of our hotel, you don't have to go far at all to sample a stellar selection, which pairs nicely with some savory dishes, including the Seafood Cocktail Bowl as well as Tenderloins served with Vegetable Kabobs. We're even proud to serve an Iron Monk exclusive brown ale suitably named the Rusty Revolver, in addition to a few other specials that only get poured here.

Across the way at The Ranchers Club, our upscale steakhouse boasting distinct western flair, Iron Monk brews complement a full menu of indulgent options—ribeyes, filet mignons, strip loins and beyond. Here, it's refreshingly easy to taste your way through our taps and find the perfect partner for your evening.

Whether you're celebrating a Cowboys victory with your friends and family or talking business with colleagues, the Atherton Hotel at OSU is the perfect place to sip the best of Stillwater's craft brew scene without ever having to leave campus.

Reserve Your Room for Spring Graduation

Spring graduation at Oklahoma State University is just a couple of months away, and The Atherton Hotel is offering the ultimate comfort and convenience with guest rooms located right on campus. Book your room for two nights or more and enjoy sophisticated service with boutique amenities during a monumental family weekend.


With room rates starting at $385.95 with a two-night minimum, guests can enjoy complimentary WiFi, breakfast included at The Ranchers Club, and guaranteed valet parking at $15 per night. In between celebratory events for your graduate, you can sit down for dinner and drinks right at the hotel. Or, allow your new graduate to show you around Stillwater and visit the essential spots nearby, including the National Wrestling Hall of Fame & Museum.


Graduation weekend for the spring semester will be taking place on May 7th and May 8th, 2021. To reserve your guest room, please call (405) 744-6835.

Indulge in Cowboy Comforts at The Ranchers Club

From juicy steaks and whiskey cocktails to curated charcuterie boards, The Ranchers Club at The Atherton Hotel features dishes that showcase ranch-chic flavors and rustic elegance in an atmosphere of gracious hospitality. Whether you stop in for the breakfast buffet, a power lunch, or a nightcap before bed, The Ranchers Club is the ultimate go-to for one-of-a-kind dining in Stillwater.

Serving up fare that is traditional and fresh, The Ranchers Club is graceful and refined without being pretentious. An extensive wine list offers sparkling, red, and white varietals by the glass or the bottle. For lunch and dinner, guests can choose from a selection of prime plates and savory steak specialties. Sink your fork and knife into a 10-ounce ribeye with brandied mushrooms, a chicken fried steak with whipped potatoes, or T-bone lamb chops with a red wine reduction.

On the lighter side of things, you can choose from a refreshing collection of soups, salads, and seafood dishes, including the Santa Fe Cobb salad with roasted corn, queso fresco, and diced avocado. Crafted drinks and dessert plates sweeten the experience, complete with an outstanding level of service that's consistently raved about. Make a reservation at The Ranchers Club during your stay and see for yourself!

Art is Back in Motion at the Modella

The virtual performance is entitled "Spaces of Covid," where each dancer performs in their homes and personal spaces while contemplating the effects of the pandemic on their creativity and freedom. This performance is just the prelude to the gallery's next exhibit "Faces of Covid" which began on January 14.

Wildly Brave has been a part of Stillwater's monthly Second Saturday activities since June 2020, when they began showcasing their virtual dance labs in collaboration with the Modella—continuing the art gallery's mission to connect people to art, even from the safety of their homes.

Be sure to check out all of Wildy Brave's past performances and stay up to date on the Modella's upcoming exhibits and activities.

Stillwater Lights The Way to the Holidays

Start the celebration with a walk around Downtown Stillwater where you can admire over 150,000 Christmas lights twinkle around the snowy streets. Grab your family and some hot cocoa and follow the Holiday Light Displays Map to embark on a scavenger hunt for the best display! Then every evening between 5 and 11 pm, tune your radio to 87.9 FM and head to Main Street for the main event—a forty-minute display of over 85,000 lights set to classic and modern holiday carols.

Keep the festivities going in Downtown Stillwater with plenty of photo ops for family photos, restaurants for delicious holiday meals, and local boutiques to pick up something special to put under the tree.

And from all of us at the Atherton Hotel, have a safe and happy holiday season!




Ranchers Club Thanksgiving To-Go

With a delicious menu full of Thanksgiving favorites, you can impress your guests by serving up a hearty holiday meal.

Our main dishes options include a brined and roasted whole turkey, hen, smoked turkey breast, or cured 81 peppered ham. Sides serve 10 to 12 guests, and you can choose between cornbread, crawfish, and sausage bread stuffing red skin mashed potatoes, gravy, smoked gouda mac 'n' cheese, and dinner rolls. To satisfy your sweet tooth, we're offering entire pecan and pumpkin pies, as well as a Rancher Club bread pudding.

Relax this Thanksgiving, choose your favorites, and schedule your pick up. We offer two pick-up times on Friday, November 20th from 3:00 to 5:00 PM and Wednesday, November 25th from 12:00 to 2:00 PM. To order, simply call 405.744.5220 or email gloria.lorenzi@okstate.edu.

Please note: Friday, November 20th orders must be placed by noon on November 17th, and Wednesday, November 25th orders must be placed by noon on November 20th.

A Fall Special Just For You

Fall is the perfect time of year to witness the natural beauty of Stillwater, Oklahoma. The sun glistens off the surface of Lake McMurty, the air is perfumed with the clean aroma of trees, and The Atherton Hotel is offering the best rates guests have seen in years. Rave reviews about our affordable elegance, fine food, award-winning wines, and first-class service weren't overblown. We pride ourselves on providing guests an unmatched experience that keeps them coming back for more.

The always popular State Room and Ranchers Club restaurants are now open for you to enjoy a dining experience that features rich hardwoods, soft leather seating, and original artwork of Oklahoma and Texas ranches. The Ranchers Club accepts dining reservations in advance and the State Room seats guests on a first-come, first-served basis.

Right now is the time to get great deals on accommodations at Stillwater's premier hotel. Be sure to book directly; it's the only way to secure the best rates and benefit from all the hotel's special perks. We can't wait to welcome you!

A Walk in the Park

If you're looking for a brief respite into nature, look no further than Lake McMurtry Park, located about twenty minutes from the Atherton Hotel. Known as "Frontier Country's Best Kept Secret," the park features over twenty-eight miles of multi-use trails for hiking and biking, along with two full-sized disc-golf courses, kayak rentals for visitors to paddle out onto the lake, and fishing docks.

Alongside some of the trails at Lake McMurtry Park, you'll find designated campsites offering a secluded escape into nature. From fishing docks on either side of the lake, anglers can catch crappie and catfish, while largemouth bass and saugeye can be found out on the water. Regulated by the Oklahoma Department of Wildlife, waterfowl hunting is permitted with a report to lake staff required.

Make a trip of it and stay overnight, or visit briefly with a one-day park pass. No matter what your favorite activity is, Lake McMurtry Park has something for you.

Cool Off This Summer at Boomer Lake

Within the city of Stillwater, Oklahoma is a summertime favorite for locals and visitors alike: Boomer Lake. Roughly two and a half miles away from the Atherton Hotel, the lake was created as a reservoir by damming Stillwater Creek. Covering 251 scenic acres, Boomer Lake is a renowned area for outdoor fun and recreation.


Walking trails, picnic tables, grills, and pavilions offer park visitors the ideal setup for a day of nature and family fun. Another highlight is the 18-hole disc golf course. From the docks or by boat, fishing is allowed with an applicable permit. The waters of the lake are teeming with bass, saugeye, crappie, catfish, and more.


Additionally, the summer months are a great time to take advantage of the stand-up paddleboard and kayak rentals. With stringent policies in place against the spread of COVID-19, the water sports rentals at Boomer Lake are offering a safe way to maintain protocols while relaxing out on the water.

The Wonders of Wildlife at Lost Creek Safari, LLC

For those seeking a day of adventure, there's no better destination than Lost Creek Safari, LLC. Located just 10 minutes away from Oklahoma State University, this USDA-certified exotic animal park boasts a wide range of exciting wildlife for visitors to meet. Come for the day and see the likes of exotic mammals, beautiful birds, and more.


There is a vibrant array of animals all around the park. One notable group you might notice is the largest troop of black handed spider monkeys in all of Oklahoma. There's a large collection of Fallow and Zika deer at the park, in addition to Reeves Muntjac deer, which is one of the smallest in the world! Porcupines, kangaroos, camels, water buffalo, parakeets, ostriches, and emu can all be found on the grounds, in addition to miniature Zebu cattle and donkeys. Tatar - the park's giant zebra mare - is also a magnificent sight to behold. Journey here and experience the fun of a safari right in Stillwater.

A Brief History of Red Dirt Music

Stillwater, Oklahoma is a one-of-a-kind historic college town. The spirit of the American Midwest is alive and well here, and a captivating way to experience it is in the tradition of Red Dirt music. Named after the richly colored soil in the state of Oklahoma, live Red Dirt bands can be heard often in the bars surrounding Oklahoma State University.

Country-folk musician Bob Childers is often credited as the father of Red Dirt music. The genre has been classified as a blended sound with elements of Americana, folk, country, rock, honky-tonk, and bluegrass. Some have defined it to simply be "country music with attitude".

Regardless, its popularity is deeply rooted in Stillwater. Other musicians like Tom Skinner, Jason Boland, and Stoney LaRue all got their start in Stillwater's local live music venues, including "The Farm", a popular gathering place for Red Dirt musicians in the late 20th century. Nowadays, students, locals, and visitors alike can experience the rich tradition of Red Dirt all over town!

Our Historic Guest List

Dubbed the "Waldorf of the West" when it opened in 1950, the Atherton at OSU was the first purpose-built hotel located in a university Student Union. President Harry S. Truman, President Gerald Ford, President Jimmy Carter, President Ronald Reagan, President George H.W. Bush, Bob Hope, Vincent Price, Will Rogers Jr., Faith Hill, Sinbad, U.S. Senator Joe Lieberman, Wilt Chamberlain, Coretta Scott King, Ethiopian Emperor Haile Selassie, Nolan Ryan, Shaquille O'Neal, Woody Harrelson, and Bill Nye the Science Guy have all walked our historic halls. We hope you've learned something new about your home away from home in Stillwater.

Atherton's Botanical Bliss

Spring break is inching closer, and guests from all over will be heading to Stillwater to accompany their friends and family at OSU. With the brisk, spring air rolling in, a trip to The Botanic Garden at Oklahoma State is a guaranteed delight. Classes won't be in session, but the 100 acres of colorful flowers and verdant shrubs will be sure to welcome you and yours. Whether it's serving as a teaching resource for the Division of Agricultural Sciences and Natural Resources or being held as a classroom, The Botanic Garden is open to the public Monday through Friday from 8:000 am to 5:00 pm. Enjoy a picnic, attend a workshop, or stroll through the Japanese garden, where you can admire the mingling koi. Free tours are provided for groups of 8 or more. On March 10th from 6:00 pm to 7:30 pm, join the Oklahoma Gardening Producer, Director and Master Gardener, Kevin Gregg on a tour of Oklahoma's native plants. More information on how to book your spot can be found online. Breathing in the freshest air is a positive way to welcome the equinox!

OSU's February Film Festival Series

With winter chills still lingering in Stillwater, whats's cozier then picking up some hot chocolate and heading to the student union for a free movie? Throughout February, OSU Allied Arts presents a film festival series including four incredible films that have been presented at multiple film festivals, gaining high recognition.

The festival starts with the drama Diane on February 5th. Winning "Best Screenplay" at Tribeca Film Festival, Diane tells the story of a mother confronting her past while trying to preserve her relationship with her drug-addicted son. Winning Best Director at Festival de Cannes, take a journey to Poland on February 12th with the Cold War, a tale of two lovers during a time where their love was hard to manage.

On February 25th, follow a father-daughter duo through the forests in Portland as their world is shattered, with Leave No Trace. The festival ends on February 28th, with the screening of Dawson City: Frozen Time, a true story, shown in museums and theaters around the world, about a collection of films roughly 100 years old, lost near the Arctic Circle for about 50 years. Join director Bill Morrison at 8 pm for a Q&A on the film. Although Dawson City is airing at 9:00 pm, all the other films will be shown at 8 pm. More information on the films can be found online.

Back to the Books

After weeks of endless amounts of food and eggnog, reality kicks in once that December 31st ball drops and we're back to the beginning of the year. Decompressing and recharging during the holidays is vital, but school is back in session here in Stillwater. Thousands of college students around the world begin their studies at universities during the spring semester. Parents flood these college towns, helping students move into dorms and clearing the isles at home goods stores. In Stillwater, enjoying local businesses is key, and Nook & Cranny Mercantile, a quick 6-minute drive from The Atherton, has everything you need for dorm decor. Or head to the Wooden Nickel for trendy finds. Classes at Oklahoma State University start January 17th, with a 'Welcome Back' reception at the Student Union from 6 to 8 pm. Parents, while you finish furnishing apartments and filling refrigerators, students can attend a Resume Walk-In event on January 22nd from 2 to 4 pm at the Student Union, where they can have their resumes and cover letters edited and revised to perfection, leaving you at ease knowing your kid is ready to start the year strong and full of opportunities. Go, Cowboys!

Holiday Fun For All

Finals are over and families are reuniting—the holiday season is here and The Atherton Hotel has a little something for everyone. Join us on December 16th for a joyous evening of Milk and Cookies with Santa. Starting at 5:30 pm, parents can bring their little ones for snacks and snag a pic with jolly old Saint Nick! After the kids have enjoyed their holiday treats, whether you're in the mood for cocktails, artisan beer, or top-of-the-line wine, head to The State Room for some seasonal spirits. Popular winter flavors include cranberry, ginger, orange, cinnamon, and vanilla. We recommend if you're building your own, to mix these flavors with either a dry red wine, vodka, or brandy as a base. Sparkling drinks are also a December favorite, and at The State Room, you can find an Italian Prosecco or Moscato, as well as a fancy French Brut. After all, a little libation helps to keep the winter weather at bay.

A Night at McKnight

Taking a break from tailgates? Want to fulfill your thespian desires? While staying at the Atherton Hotel at OSU, you're just a 2-minute walk from the McKnight Center for Performing Arts, where you can enjoy shows ranging from orchestral concerts to musical theater. Although McKnight provides shows year-round, this month's calendar includes the 3rd Annual Chamber Music Festival, the OSU Jazz Orchestra, and Cirque Mechanics. The Ranchers Club is now accepting dinner reservations from 5 pm- 9 pm to ensure you're well fed before a night of performances. Craving the delicious pairing of tapas and wine? The State Room will be serving dinner between 4 pm - 10 pm. Planning an extended stay in Stillwater? You can even create a ticket package for more than one show, saving you 5%. To browse their list of events, you can head to the McKnight Center for Performing Arts Facebook page or check out their website to purchase tickets. Hurry! Seating is limited.

Spooks and Sports in Stillwater This October

If you're in town at the end of October, get ready for some rowdy college football and frightening festivities—all in shades of orange and black! The OSU Cowboys season is heating up with only two games left this month: a home game on October 19th against Baylor and an away game at Iowa State on October 26th. If you miss the home game while you're here, never fear, OSU fans will still come out in droves to watch the game on campus, downtown and at our very own hotel.


While you're here, don't miss downtown's annual Halloween festival on October 29th. Locals, students, and visitors will gather in their spookiest attire for trick or treating in downtown merchant shops, carnival games, live music, food trucks and even a costume party. With fun for the kid in all of us, this special event is sure to bring you right back to your favorite childhood memories!

Cheer on Your Cowboys as Football Season Heats Up!

September brings cooler temperatures and thrilling weekends with the start of Oklahoma State's football season. Cheer on the cowboys as they square off against rival teams, including the Tulsa Golden Hurricanes and the Kansas State Wildcats. There are two home games and two away games this month, with home games falling on September 7th (vs. Mcneese) and September 28th (vs. Kansas State).

If you're staying with us during the games, rest assured knowing our property is less than half a mile from Boone Pickens Stadium and within easy walking distance, giving our guests the privilege of avoiding costly ride shares and parking fees. Before the game, enjoy a drink at our onsite The State Room or, dine in elegance at The Ranchers Club, our OSU-loyal restaurant.

Don't forget to pack your best orange and black and get ready for another great season of Cowboys football. Go Pokes!

Get Familiar with the History of Stillwater

While you're staying at the Atherton, it's worth getting to know the historic city of Stillwater that we call home. In addition to your walks around beautiful the OSU campus and weekend explorations of the downtown farmer's market, consider stopping at the Stillwater History Museum at the Sheerar. Here visitors may learn about and observe historic artifacts from Stillwater, Oklahoma including memorabilia from fraternal organizations, WW II and more.

Starting on the 12th of August, the Automobiles in Stillwater exhibit will demonstrate the development of the automobile alongside Stillwater, as well as our proud history of automotive safety. The exhibit will last until October 1st. To check out all that the museum has to offer, visit their website for additional information. Enjoy your stay in beautiful Stillwater!

O-State Alumni, Revisit Your College Memories This May

For the first of many years to come, the School of Global Studies and Partnerships and the OSU Alumni Association are pairing up to host an international meet-up for Oklahoma State alumni. This year's trip is May 18th and 19th to the beautiful country of Mexico. Why does that relate to us? Well, if you're feeling blue about missing the trip, don't worry, there's a lot to be said for returning to the scene of the crime! While they're catching up with tequila, revisit your old haunts and hangouts, walk the same halls you used to hurry down, lay out on the campus green, or read a book in the library. Maybe you'll even run into someone you know! With our facilities just steps away from the school so you'll feel like you're living on campus again—minus the shared dorm rooms and community showers!

Engage Your Artistic Side at The 42nd Annual Stillwater Arts Festival

April is the month when spring is in full swing, flowers begin to bloom and creativity blossoms with it. Artists from all around the Stillwater community will come together in historic downtown for a celebration of their artful crafts during one of the loveliest times of the year. The event, happening Friday and Saturday this year, will feature artwork, jewelry and a treasure trove of other crafts. All participating artists have gone through an application process to ensure the integrity of the long-standing tradition. Live music, street performances, food trucks, and local restaurants will all be a part of the festival as well.

The outside event will occupy Mainstreet and is free to the public. Kids, pets, and smiles are all welcome! For more information, visit the event's Facebook page here.


It's the Best Time of Year, Spring Break

What better time to visit Oklahoma State's beautiful campus than when the students are away? During the week of March 18th, the university becomes a visitor's playground with easy access to scenic tours, events, and local establishments. Some highlighted events during this time include The OSU women's Golf Spring Break Classic, OSU men's baseball and women's basketball.

As a prelude to this week of exploring OSU's offerings, St. Patrick's day festivities will be going on all across Stillwater on March 17th. We suggest a few stops in particular. A must-try is a Leprechaun Monster Malt at Mojo's Rock N' Bowl Grill, a rainbow-colored milkshake that's akin to a pot of gold! Another necessary stop is Iron Monk Brewing Company, a staple bar in the downtown Stillwater scene. They'll be serving up green beer, live music and entertainment all day.

Whatever you do during your spring break in Stillwater, you're sure to have a great time here at the Atherton!

Don't Miss This Years Hall of Famers

Each year, several alumni and former students of Oklahoma State University are honored for their outstanding lifetime achievements with their induction into the OSU Hall of Fame. This honor, considered the highest of praises, recognizes achievements as a student and as professional and members of society. This year's ceremony, held at the ConocoPhillips OSU Alumni Center on February 8th, will welcome four former students to the Hall of Fame. The event will start at 6 p.m. with a reception, followed by the ceremony commencement at 7 p.m. Better get your tickets soon, ticket sales end February 1st! Click here for more details.

While you're staying with us, be sure to take a tour of OSU's lovely campus. Located just a short 5-minute walk from our hotel, there's no reason not to spend a lovely afternoon walking the same path as so many inspiring alumni.

Meet Some Real Cowboys At This Month's Stock Shows

Ever been to a stock show? Well here's your chance! On January 19th & 20th, OSU's Block and Bridle will host their Winter Bonanza. Stockmen from across the state will gather to showcase their prize-winning cattle and compete in various categories in front of a panel of judges. It's a unique opportunity to learn more about the industry that is such a pivotal part of OSU's history.

If that's not enough for you, come back on January 26th & 27th for the swine showcase, featuring the best of the best swine Oklahoma has to offer. Both shows take place in the Payne County Expo Center.

Before heading to the swine show on January 26th, be sure to watch the OSU Cowboys defeat the South Carolina Gamecocks. The basketball game starts at 1 p.m. at the Gallagher-IBA Arena.

Put Your Arts & Crafts Skills to the Test at The Prairie Arts Center

Through the month of December, the Prairie Arts Center is offering various art classes centered around the holidays. This is the perfect place to let the creative juices flow and the holiday cheer come alive. Make a hand-crafted gift for a loved one, learn creative wrapping techniques or become a professional wreath-maker. Our personal favorite? The holiday cookie-decorating class! With so many hands-on activities to explore, this is fun the whole family can take part in and even walk away with a memento to remember the occasion by. Check out their website here to access their calendar for specific workshop dates. If you aren't too tired after an afternoon of crafting, be sure to take the short trip to nearby Oklahoma State University for a tour of the beautiful campus, home to the cowboys!
The Ranchers Club
Rich hardwoods, soft leather seating and beautiful original artwork of Oklahoma and Texas ranches define the comfortable elegance of The Ranchers Club.
more details
our history
Dubbed the "Waldorf of the West" when it opened in 1950, the Atherton at OSU was the first purpose-built hotel located in a university Student Union.
more details
Campus
With picturesque landscaping and Georgian architecture prominent throughout its 700 acres, OSU is one of the most beautiful campuses in the region.
more details
Where Old-School Service
Meets World-Class Style